Even the most devout anti-resolutionist has a tough time not thinking ahead at this time of year, and we're no exception. If you're like us, your thoughts are turning toward the New Year, and how to improve your practice.
Here are three upcoming happenings here at TPJ for 2012 that we think will make a difference for you, including a way to get The Practitioner's Journey for just $5 if you haven't already got your copy.
1. How To Make 80K in Your First Year of Practice
We had the pleasure of interviewing a fantastic new practitioner who took home $80,000 in her first year of practice. I'm going to share her story early in the New Year. It's interesting stuff. Her story should be required reading. And you can all do what she did – even if it's not your first year of practice.
2. The Practitioner's Journey Workbook – NOW AVAILABLE! Click here to order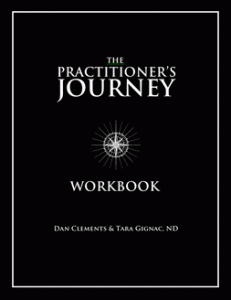 We get a lot of feedback on The Practitioner's Journey, but it's the framework – the figurative journey that helps people better understand their practice growth – that gets the most comments.
What we've been asked for is a way to better put that framework to active work in practice. Enter The Practitioner's Journey Workbook:
Some 30 pages of exercises, assessments and tools to help find your difference, attract new clients, and leverage your existing ones
Print it out as a paper workbook, or fill it out the interactive PDF right onscreen on your computer or iPad.
We've also added an easy to use, but powerful spreadsheet tool for tracking your practice statistics. You can easily track your numbers, and watch your practice grow in vivid color. You just enter the basic data, it cranks out simple metrics that give you insight into your progress.
If you haven't yet read the book, you can get the original eBook, and workbook/stats package for a reduced price.
Click here to order your copy!
3. Our New Book: The Go-To Guru
After all the websites and business cards, the tweets and posts, the speaking gigs and networking, all practitioners are really trying to do the same thing: get attention.
We're all clamoring for attention, and the truth is that attention (and the business that comes with it) flows to those best able to establish themselves as what we call The Go-To Guru. That's the title of our new book, and it comes out in 2012. Woo! It's based on our experiences and interviews with dozens of successful "G2G's", and the principles they use to become the practitioners of choice in their area. And, of course, like The Practitioner's Journey, it's not quite like other books…

  Pre-order info and reader discounts to follow!
Here's to 2012!
Thank you all for reading, sharing, and spreading the word.
-Dan
No related posts.