The Practitioner's Journey – Companion Workbook
Now Available!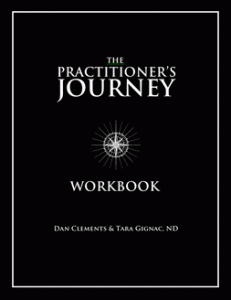 We get a lot of feedback on The Practitioner's Journey, but it's the framework – the figurative journey that helps people better understand their practice growth – that gets the most comments.
What we've been asked for is a way to better put that framework to active work in practice. Enter The Practitioner's Journey Workbook.
Some 30 pages of exercises, assessments and tools to help find your difference, attract new clients, and leverage your existing ones.
Print it out as a paper workbook, or fill it out the interactive PDF right onscreen on your computer, laptop or iPad.
We've also added an easy to use, but powerful spreadsheet tool for tracking your practice statistics. You can easily track your numbers, and watch your practice grow in vivid color. You just enter the basic data, it cranks out simple metrics that give you insight into your progress.
If you haven't yet read the book, there's also a special deal on the digital editions of the workbook and book combined for just $24.95.
OPTION 1. Order your digital edition workbook AND stats tracking for $19.95:
CLICK HERE

OPTION 2: Order the eBook edition of The Practitioner's Journey AND digital workbook/stats package combined for $24.95:
CLICK HERE