Get The Practitioner's Journey eBook edition and the new Digital Workbook/Stats Tracking Package together for $24.95 and save almost 30%!
Buy Now
The Practitioner's Journey: The Path to Success for Holistic, Alternative and Integrative Health Professionals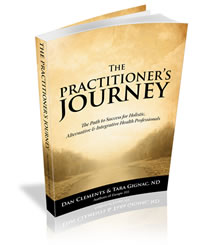 The Practitioner's Journey is a unique blueprint for overcoming the common challenges faced by every practitioner. Part story, part business guide, this book will change the way you think about your practice and your life.
All holistic and integrative practitioners, from chiropractors and massage therapists to acupuncturists and energy workers, will discover a practical framework for dramatically transforming their practices.
Paperback
|  eBook |  Excerpt | Learn More | New: Workbook!

What Practitioners are Saying:
"A powerful way for practitioners to view their professional lives…I have made it the required text for the class and have structured much of the class around it."
-Eric Martin, MS LAc
Practice Management Instructor
Bastyr University
"I picked up your book last week, opened it at random, and there lay The Cave.  And here is where wonderful realizations began. Your book is like no other 'business improvement' material I have ever read. For the first time I am reading something and feeling that the control is within rather than without. Messages that ring true for me are now written upon Post-It notes on key surfaces around my home. I used to feel like I simply floated between patient visits… now I direct my sails.  Thank you!"
– SW
"The Practitioner's Journey is a real gem! It's so in depth yet practical and to the point. Thank you for distilling your experience and insight to create such a valuable resource for practitioners."
- AJ
"I've been a professional reflexologist for 10 years and the book is helping me to redefine and refocus my practice. Thank you."
-Diana Khoury
ARCB Certified Reflexologist &
Washington Reflexology Association Marketing Chairperson
ESCAPE 101: Sabbaticals Made Simple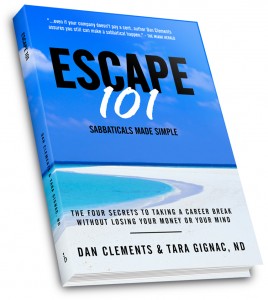 If you've ever wanted to take an extended leave from your practice, this book has everything you need. Whether you want to travel, study, volunteer, take a maternity leave, or just recharge, Escape 101 has all the insight you need to do it.
Paperback |   eBook |   Audiobook | Excerpt
Visit the Escape 101 website
What Practitioners Are Saying About Escape 101:
"I have an insanely busy practice – this is exactly what I needed to read. I've already planned a long vacation with my wife and two young boys this winter and the plan is to take off to Central America next summer. Thanks for writing the book – I found it VERY inspiring!"
– Andy Rosenfarb, L.Ac., MTOM
"…a wonderful resource and practical road map to unplugging from your career (or yourself)…the nudge you need to get out of dodge, recharge, work less, and live more."

-Dr. Rana Singh, ND
"My wife and I have been contemplating "How to take a career break" without sacrificing the hard work we put into building my practice -this wonderful book showed us 'how'! Well written, creative and thoughtful -the strategies were easy to implement. I read this book on the way to a seminar 3 months ago, and here we are enjoying week 4 of our 12 week sabbatical."

-Dr. S. Rallis, DC