Hi All,
Next year is almost here! Thanks to the many (wow!) of you who took advantage of the pre-order special on The Practitioner's Journey workbook. The offer ends on December 31. Before then, you can get the digital workbook for just $9.95, or the original eBook and the workbook together for just $14.95. Click here to order. (Update: The workbook is here! You can get both the eBook and the workbook/stats package here.)

-Dan

The New Year is just around the corner. Here are four ideas to help you hit the ground running…in the right direction…

Strategy 1: Pick One Big Thing to Work On
It's a new year, and the temptation is to try to radically transform everything. Forget it. You're not going to change everything in your life or your practice overnight. Pick what you're most passionate about. Or what will have the biggest impact. Solve your biggest problem. But pick ONE big thing. If you fix that thing, you can always move on to the next one, but start with one?
And while you're at it, decide on what "done" looks like for that one thing. Things like "make more money," or "grow my practice" don't have finish lines. No finish line means you run forever.
One race at a time, with a finish line, will keep you focused.
Strategy 2: Decide That Your Practice Must Serve You
Remember when you were a kid, and you'd say, "You're not the boss of me!"? It's time to regress a few years and put that tactic back to use in your practice. It's time to decide who's the boss. Here's the org chart as I see it: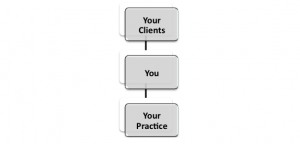 In short: Your clients are the boss of you. You're the boss of your practice. 
Your practice works in the mail room. It's job is to serve everyone. Especially you. It's there to make sure people get care, and you get paid. Nothing more.
Make the decision that your practice is there to serve YOU, which it does by providing you with income. I'm not kidding.
What does that look like in practice? You pay yourself first. That may sound trite, but it's amazing how the bills always seem to find a way to get paid, but not so much the practitioner. Even just changing the sequence of paying yourself first, then the bills, can make a difference.
Letting your practice push you around is like choosing to let your car drive itself. It's a painful and costly process that never gets you where you want to go.
Strategy 3: Plan to Take a Risk
Since most practitioners don't start off as entrepreneurs, they also don't tend to be big risk-takers. In fact, your job may well be about spending your time trying to reduce risk–the risk of injury, the risk of disease, the risks of aging, the risks of modern lifestyle.
The problem, of course, is that part of what you get paid for in practice is taking risks. That means if you want your reward to increase, you may have to increase your risk as well.
What it looks like in practice:
Hire someone. Do you really need help, but are afraid to take the leap? Maybe it's time to try. You don't have to hire someone full time – try a smaller commitment first.
Bigger space. Are you busting at the seams, but can't do more in your existing space? Maybe it's time for a move.
New offering. New service? Product? What can you invest in to bring to your practice that will offer more to your existing clients, or attract new ones?
Try a new marketing technique. Particularly one that scares you, like networking or public speaking.
Invest in yourself. Do you understand marketing? Finance? Managing others? Spend some time and money on yourself to fill in the missing pieces.
There are of course, many more. What will yours be?
 Strategy 4: Choose to Be in Business This Year
More accurately, that should be "choose to accept that you're in business," because you don't get a choice if you're running a practice. It comes with the territory, and everything works better if you just choose to swim with the current.
Why? I think our free ebook, The Gift, says it best. You can download it for free. No signups. No catch.
What it looks like in practice:
I think it looks a lot like this.
We'd love to hear your suggestions on how you plan to make the most of next year. Good luck in 2012!
No related posts.