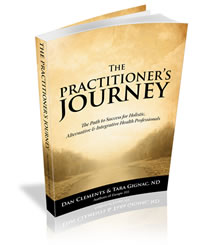 Many moons ago we set out to write a book. One that would help all CAM practitioners, from acupuncturists and chiropractors to massage therapists and energy workers, get what they really want from their practices. A book that would help struggling practitioners get unstuck, find balance, and make a decent living.
Today I get to say that book is here.
The Practitioner's Journey hits the shelves today. You can find the paperback on Amazon, download the eBook version right now, or order it at your local bookseller (ISBN 978-0973978247).
If you'd like a taste first, there's an excerpt here. (There's also a deal on the combined eBook editions of Escape 101 and The Practitioner's Journey at the end of this post.)
The Path to Success
The Practitioner's Journey is a unique blend of story, business insight, and practical strategies. It's based on our experiences in part, but mainly on those of the untold number of practitioners that we've interviewed, visited and coached over the past half-decade.
During the research for the book, we realized one thing early on: regardless of our profession in health care, we're all facing the same challenges. Four of them, in fact. This book is about overcoming those challenges and finding your way to that elusive place called Success.
Not only do the challenges in practice share common threads, but we also saw over and over again that one of the trickiest parts of creating the practice you want isn't the things you have to do. It's how you think about what you have to do. The journey we all make as practitioners, it turns out, is just as much an inner one as it is an outer one of clients and clinics and money and treatments. Sometimes it's not knowing what to do. It's knowing what to do next.
If you're struggling in practice, or feeling like things aren't quite where they should be yet, this book will help. Among many things, you'll learn how to:
Attract new clients without feeling sleazy or uncomfortable, or spending a fortune
Build a practice that needs far fewer clients in order to thrive
Protect yourself from economic changes and competition
Find and maintain life balance for your entire career
Build a long-term future as practitioner by transitioning from practice to business
The book is filled with practical, specific strategies for overcoming the challenges of private practice, and finding your unique place in the CAM universe. Interestingly, it's also the same framework we've used to do our strategic planning for that past three years. It's a way of thinking about practice that makes it easier to plan, and less complex and overwhelming to make the steady forward progress you need to find your way to that elusive place we call Success.
As part of the launch, we're offering Escape 101 AND The Practitioner's Journey in ebook for $19.95 (the ebook editions are $14.95 separately.) If you're more of a print person, the paperback is here on Amazon.
Enjoy the book, and thanks for being part of our journey!

-Dan & Tara
Order The Practitioner's Journey: The Path to Success for Holistic, Alternative and Integrative Health Professionals
No related posts.
3 Responses to "The Practitioner's Journey: The Path to Practice Success"