Sometimes, clients just appear on your mental radar. They pop into your mind out of the blue, and you think, "Gee. I wonder what happened to so-and-so?" They might have been in active treatment, but have since dropped off, or recovered from a condition and haven't been back since.
Whatever the reason, it happens, and we've often wondered if we should be doing something at those times. Recently, instead of just continuing to wonder, we decided to try an experiment.
We have a dry erase board in the staff room, and lately we asked the team to simply write down clients when they think of them out of the blue. Pretty simple stuff, really – just write their names on a board.
For a while we wondered about the best way to connect with them, though. Call? Write? Email? We'd been using personal letters to reengage old clients, but the truth was we wanted to connect with those people. After all, we really did want to know what was happening with them.
In the end, we decided to experiment with email. Tara wrote six personal emails to clients who had appeared on our "mental radars" in some way. The result was incredible: people loved it. All six responded quite quickly, and at least two have booked to come back in. Just like that. Minimal time investment, zero cost.
Why did it work so well? I think part of it was the medium – email's less invasive, and more convenient for starting a dialogue. Letters aren't great for instant dialogue, and it's often hard to get people on the phone at a time that's convenient for everyone. More important, though,  I think it was because these were in no way "salesy" emails. They were genuine inquiries: we were thinking of you and wondering how you were. The decision to reengage with the practice was entirely their idea.
The lesson? If someone's on your mind, then maybe it's time to be on theirs, too.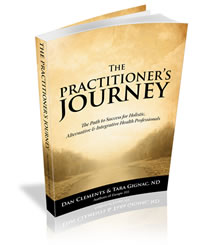 Update 2: The book's here! You can find The Practitioner's Journey here, and learn more here. Enjoy!
Update: The Practitioner's Journey is off to the presses! We're really excited about this book. It's the end of a long stretch of writing and rewriting, but best of all, it's going to change the way that many practitioners think about growing their practices. More details to follow as the book hits the shelves, of course, but in the meantime, we'll be moving AHP to a new online home. With any luck, that'll be a seamless process, but if things get dark and strange in here for a while, you'll know why!
No related posts.