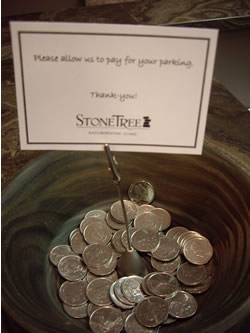 We're thrilled with our new clinic. We've been able to offer better (and more) services because of the extra space, and the goldfish effect really seems to be kicking in.
One of the small drawbacks, though, is that our patients have to pay for parking – ouch. It was one of those little things that didn't sit well with me, and it didn't seem to fit our vision for the clinic.
What to do? Pay for it, of course. We put a small bowl on the counter full of change, with a sign reading "Please allow us to pay for your parking." We encourage patients can help themselves to whatever they need.
It made sense for us – the cost of a visit in our office is relatively high, so paying a little bit for our patients to park is easy and seemed like the right thing to do.
When service becomes more than service
It turns out that people love it. What's interesting, though, is that most patients comment on how nice it is but don't actually take any money.
What's really wonderful though, is how many people put money in to pay for other people's parking! I love it. People keep tossing in change "For the next person."
For some reason, our little parking dish seems to spark a little something. That little spark, though, is more than just pay-it-forward niceness. It adds one more little bit of positive joy to the customer experience, too, and sends people out the door feeling that much better.
Our decision to provide a little extra service to our patients seems to just bring out the shiny side of folks, and I like that. A lot.
Are you missing any opportunities to help your clients shine by serving them better?
No related posts.
8 Responses to "The Unexpected Joys of Great Service"