In the spring of 2003, we purchased all the patients files from an existing practice in our area.
At the time, it seemed like a huge investment for what essentially amounted to a few filing boxes of paper. During the discussions to buy the practice, and in the time leading up to the closing date, we stressed about the cost and worried about what would happen. Was it worth it? How many patients would transition? How long would it take to get our money back? Would we get our money back at all?
Of course, our worries were completely unfounded. We got all our money back in a matter of months, and never looked back.
How Buying a Practice Pays Off: Our Experience
I've since been involved in numerous practice sales, from helping with valuations and mediating negotiations, to maximizing the number of patients that will transfer from one practice to another. Every one of them shares one thing: the person buying the practice worries about whether it's going to be worth it.
In my experience, it almost always is, but that's often not much help to a cash-strapped new practitioner making a big purchase.
To make the case to students a while ago, we pulled a real-life example from our own experience.
The chart below begins at the top with one patient, MR, whose file was one of 200 that we bought.
The chart shows MR's referrals in the 12 months following our purchase of the practice, and the referrals from her referrals, and so on. We took it down to four levels.
The number on the image is the total revenue, in those 12 months, from those patients – almost $20,000. We got all our money back just out of MR and her referrals.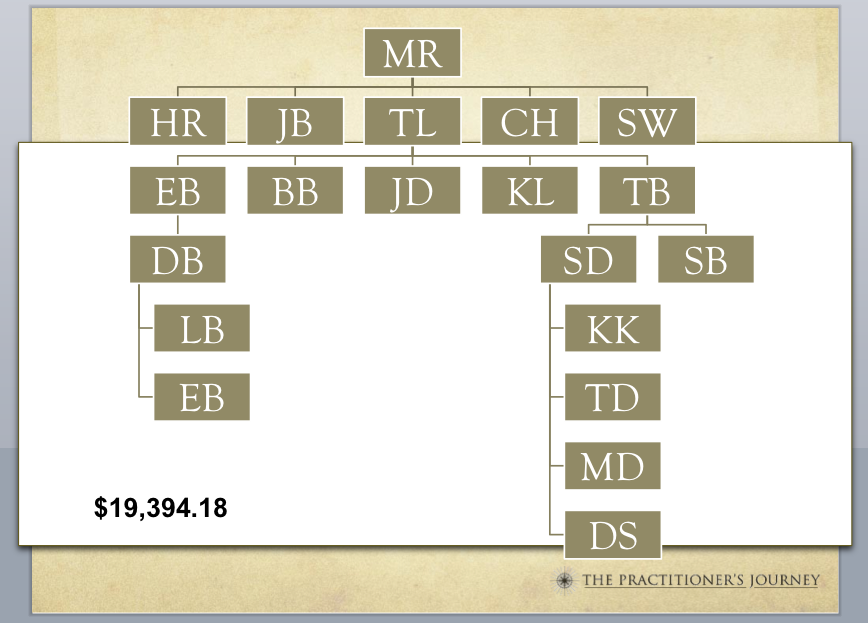 There were 199 more files after MR. Not all of them transferred to the practice. Some were dead files when we got them. Not all of them referred like MR did. But the point is that ONE good file can make the whole thing worthwhile. Ten files like MR can change your life.
Why Buying A Practice Matters
Buying a practice is about more than just revenue. Here are just a few more benefits:

You'll Learn Faster. To get good at what you do you need experience. But getting experience is hard when you're not yet good at what you do. The result is this kind of endless loop that can take a lot of time to escape. Buying a practice is the fastest route to becoming an experienced practitioner. What might take years in a not-quite-busy practice can happen in months in a busy one.
You'll Get Over the Referral Hump. It's no secret that practice gets easier when you have a large client base referring to you. You don't have to work as hard at marketing, or spend as much. But building that kind of patient base can take time. Buying it can make it happen almost overnight.
You'll Save Time & Money in the Long Run. There are a lot of ways to invest in your practice–advertising, networking, speaking, etc. All of these things work. The problem is that they all cost something in time, money and energy. I've yet to find a way to grow a practice that works faster or better than simply buying one. Spend time and money once, then get on with being awesome.
The Already-Converted
It makes sense that buying a practice works. When you market to an unknown audience, you're speaking to many people who simply will never hear you, or aren't a fit for what you offer. When you buy a practice, you're connecting with a whole group of people who already want what you have. Your odds of finding an MR skyrocket when you're dealing with people who are already "converted".
I believe buying and selling practices is great for health care, and great for practitioners. The biggest challenge is that people are intimidated. If you've got a success story from buying a practice, please share some encouragement in the comments!
Next time: How to find a practice for sale…

No related posts.
7 Responses to "The Case for Buying A Practice"