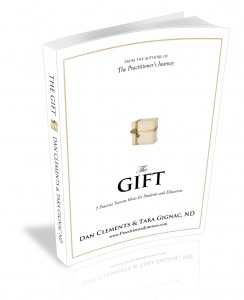 The Short Version of this Post: We Need Your Help

We've written a free resource for schools to help students get started sooner on the path to practice success. It's an ebook called The Gift: 7 Practice Success Ideas for Students and Educators. We'd like to ask you to give it a read and share it with as many students, colleagues and educators as you can.
I'm pretty excited about it, and would love it if you grabbed yourself a copy. It's a very quick, very accessible read. Just a few pages. No email signups, or any other barriers. Just grab it and read, and then share it in whatever way suits you best (see the ideas below).
The Long Version: We Need to Start Practice Success Sooner

Our philosophy for doing this over the years is pretty simple: strong practices make strong professions.
The more successful practitioners are, the more people they reach. They're able to build stronger associations and tribes, which gives them more research, better legislation, and broader reach. Then health care gets better. And the cycle continues.
One of the challenges, though, is that the journey to business success needs to start earlier – ideally, more intensively during school.
The Practitioner's Journey is now being used in practice management classes in many schools across the US and Canada. It's given us the opportunity to speak to educators in massage, chiropractic, acupuncture, nutrition, naturopathy and more about what students need to be more successful when they graduate.
One common challenge we hear is that it's difficult to engage students in the idea of being in business while they're still in school. Students have a lot on their plate, and they don't want to think about "all that business stuff" until they start practice. Our goal is to change that. Just a little bit.
The Gift: 7 Practice Success Ideas for Students and Educators is a free ebook that aspires to engage students a little sooner in the idea that they're going to have to run a business, and that there's a silver lining to that idea that they may not have considered. It's short and very easy to read, and it's meant to be shared freely.
How You Can Help
Read it yourself. It's short, easy to read and you might find something of value even if you're not a student. In fact, I'm certain you will.
Pass the book along to a student.
Share it with your alma mater, or any colleagues who are teachers in the CAM & Integrative health professions. Or anyone else. There's something in this book for all practitioners, I think.
Like this post. Tweet it. Share on Facebook. Blog it. Link to it. Pass it on to your colleagues and ask them to do the same.
Don't stop helping students. Yes, it's distracting to have them in your practice, to take their calls, to answer their email. But they need the help. Just like you probably needed it once.
You can find the book here. Enjoy. Let us know what you think, and thank you in advance for your support. It may seem like a small thing to share a simple link, but small is how all the good stuff starts.
-Dan & Tara
No related posts.
3 Responses to "The Gift: A Free Practice Success Book"