Hi all – if you want to skip the 'why', just scroll down for the how-to part. It's easy. There's also a clinic sign we made at the bottom that you can download in PDF…

-Dan
Facebook has become one of the largest sources of traffic to our clinic website. And the more traffic we get from it, the more we play with it. And the more we play with it, the greater the potential seems.
We recently set up the clinic as a Facebook "Place". While a "Page" is like a Facebook profile for your business, Places is a location-based side of Facebook. It lets people use their phone or mobile device to "check-in" – to say to their other FB friends, "Hey – this is where I am, right now."
How Places Can Help Your Practice
1. Traffic and Awareness
When someone checks in to a Place, an entry goes into their FB feed. It look something like this:

My FB friends (or friends of friends, etc, depending on privacy settings) can then click on the clinic link to take them to our Page, or they can comment on my location, or Like it. I can also tag any FB friends who happen to be with me at the time – all of which serves to basically send the clinic name and link spinning around Facebook in one form or another. That brings people to our page, where they can Like the clinic, or visit our website. All of which trickles down  into someone eventually showing up.
2. Deals
Places also offers you the ability to create "deals" – essentially rewards to your clients for checking in when they arrive at your practice. There are four kinds: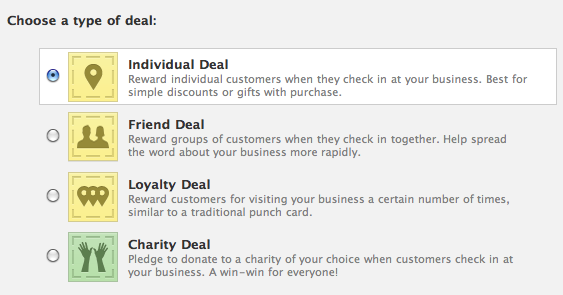 We haven't used any deals yet – I'm not sure they're a fit for every practice – but we may test it out. Regardless, I'm intrigued – if anyone's tried it, let us know in the comments.
How To Set Up Facebook Places
This is one of those things that's really easy, but isn't necessarily intuitive. You'll need to be at your practice with your mobile device to get started. Here are the instructions I used. They worked just fine, although the last step of merging our clinic Page and Place seems to be taking awhile. But it only took a few minutes to get it all up and running.
(For those of you really into this stuff, merging Places and Pages seems to be in flux, with various pros and cons, including problems with multiple locations. Might be worth waiting a little while to merge, but there's no reason to not set up your Place anyway. If this all seems like Greek to you, just go ahead and set up your Place, and forget about the merging part for now.

)
A Sign for Your Waiting Room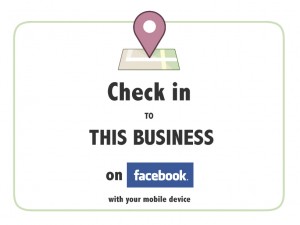 I'm not convinced that there's a heap of traffic in our waiting room that will check in via phone, but I'm curious. I thought I'd put up a sign in the clinic letting people know they can do it. Here's a generic version of the one we made – you can download the PDF here if you want to print it out and do the same, or drop in your own name or logo.
No related posts.
2 Responses to "How (and Why) To Set Up Facebook Places for Your Practice"